Enjoying the experience of travelling is a great way to spend time.  Experiencing cultures, different foods, another country, or even a neighboring town provides memories for the rest of your life.  However, make sure you stay focused on your spinal health during that time away from home.
Make sure to support your neck…
Look at the various options for travel pillows that can provide support.  Find one that will work best for your situation and make sure your neck is positioned at it's best.
As well as your back!
You can use an article of clothing or towel rolled up and placed behind your lower back to give you the best support that your seat may not provide.
Exercise, exercise, exercise.
You may find that doing small activities can help blood circulation and keep any cramped feelings at bay.
Drink some water.
Drink water regularly to help your body work optimally by keeping it hydrated.
Get some rest.
Make sure you stretch after each night's rest or napping period.  Always sleep on your side and not your stomach.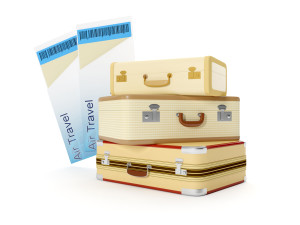 And lift the suitcases appropriately.
Whenever you are carrying your suitcases make sure your lift with the strength of your legs and not your back.
Contact Dr. Adam Elsey, a chiropractor in Hazelwood and Florissant, Missouri.  Dr. Adam Elsey is experienced with treating many types of car related injuries and musculoskeletal pain.  Call Dr. Elsey at (314) 731-4201.